Financial software development is a cost-effective solution when you choose to automate your core business processes. This is the reason it is important to learn how to choose a financial software development company as per your needs. With the increasing demand for innovative and secure financial solutions, it's essential to choose a company that can meet your specific needs and provide a custom solution tailored to your business. Here in this Kodehash blog, we are suggesting some key considerations to choose the right financial software development company.
What Is Financial Software Development?
When Finance merges with technology it is called Fintech. To simplify its meaning, we can say that with the help of technology or finance system software, various financial services are made to deliver services to enhance financial management.
Factors to Find The Right Financial Software Development Company
Experience and expertise: The first thing to consider is the company's experience and expertise in financial software development. Look for a company with a proven track record of delivering successful financial software solutions to businesses in your industry.
Understanding of your business: The company you choose should understand your business, its processes, and the unique challenges you face. They should be able to recommend and develop a solution that is tailored to your specific needs.
Technology: The company should have the latest technology and tools to develop secure, efficient, and innovative financial software solutions. They should be familiar with various programming languages and platforms, such as Java, Python, and Ruby on Rails.
Security: Financial software solutions handle sensitive information, such as financial records and personal data. Make sure the company you choose takes security seriously and implements robust security measures to protect your data.
Customer Support: The company should provide reliable and responsive customer support to ensure that any issues or concerns are addressed promptly. They should also provide regular updates and maintenance services to keep your financial software solution running smoothly.
Cost: Cost is an important consideration when choosing a financial software development company. Make sure to choose a company that offers competitive pricing without sacrificing quality or security.
References and testimonials: Ask the company for references and testimonials from past clients. This will give you an idea of the company's reputation and the quality of its work.
Popular Fintech Solutions A Financial Software Development Company Offers
1. Mobile Payments and Digital Wallets: Mobile payment solutions enable secure and fast transactions through smartphones and digital wallets.
2.Personal Finance Management (PFM) Tools: These tools help individuals manage their financial health by tracking their spending, setting budgets, and creating savings plans.
3.P2P Lending Platforms: P2P lending platforms connect borrowers and lenders directly, eliminating the need for traditional banking intermediaries and providing more accessible and affordable credit options.
4.Investment Management Platforms: Investment management platforms provide individuals and institutions with access to a wide range of investment options, including stocks, bonds, and mutual funds.
5.Digital Banking Platforms: Digital banking platforms provide traditional banking services through a user-friendly online or mobile app, eliminating the need for in-person visits to a bank branch.
6.Blockchain-based Payment Solutions: Blockchain technology offers a secure and decentralised method for transferring funds, making it a popular choice for fintech payment solutions.
7.Insurtech Solutions: Insurtech solutions use technology to make the insurance process more efficient and accessible, from quote generation to claims processing.
8.Robo-Advisors: Robo-advisors are digital platforms that provide automated investment advice, making it easier for individuals to manage their portfolios and reach their financial goals.
Several Fintech software development companies in different countries:
Outsourcing is the best solution for a company to regularise the work no matter where you are located. Here as per Clutch. co sources find the number of financial software development companies in the most popular outsourcing destinations.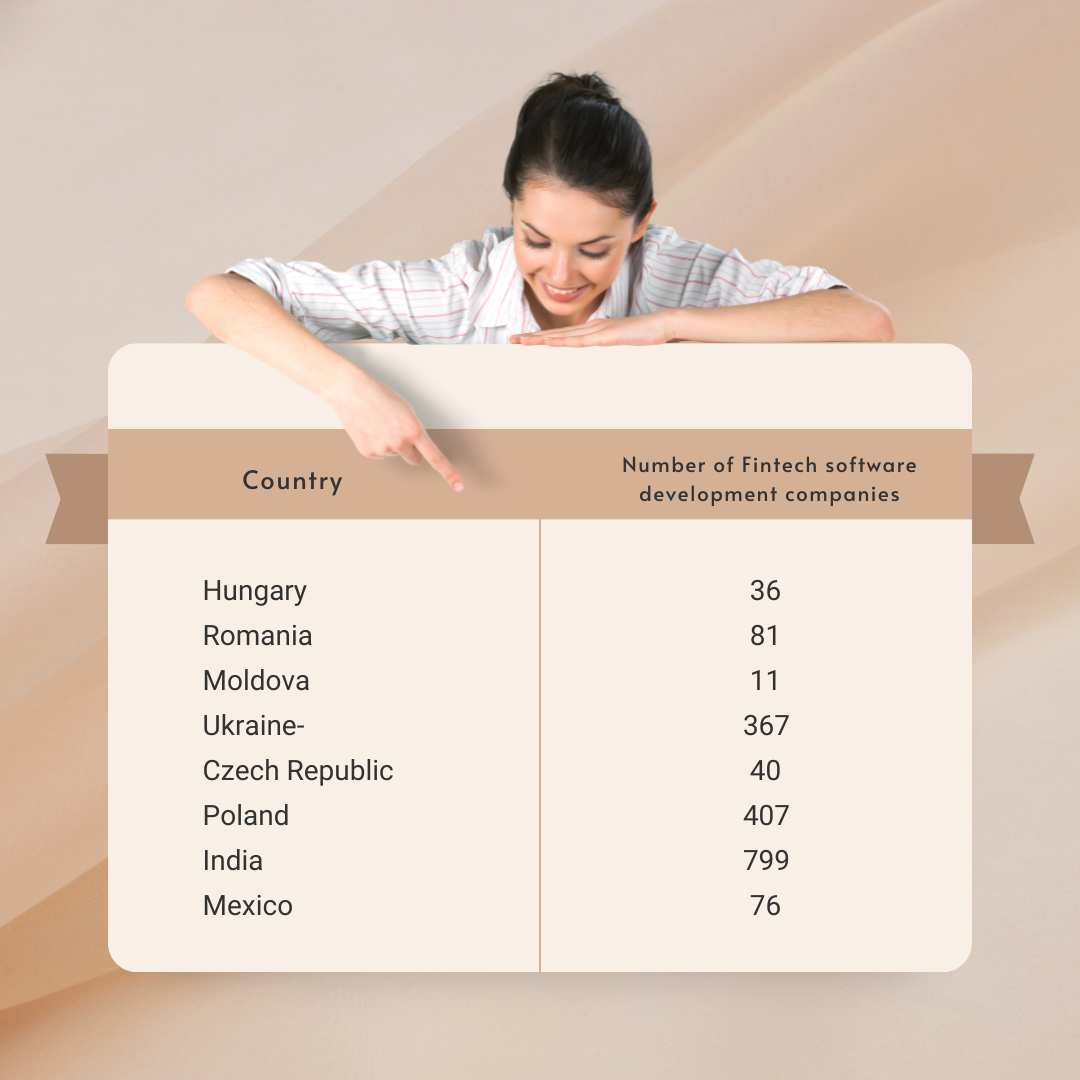 Tips on how to choose the best financial software development company
Finding the best financial software development company is a critical decision that can greatly impact the success of your financial operations. If you are still confused to choose the best company then here are some tips for you :
Define your needs: Before you start searching for a financial software development company, you need to define what you're looking for in a software solution. Write down your requirements, such as the type of financial transactions you need to manage, your budget, and any specific features you require.
Research the market: Look for companies that specialize in financial software development and read customer reviews and case studies to get a better understanding of their capabilities. Check their portfolios and see if they have experience developing similar software to what you need.
Look for experience: Make sure the company you're considering has experience in developing financial software. Look for companies that have been in business for several years and have a proven track record of delivering high-quality financial software solutions.
Check for certifications and accreditation: Financial software development companies may be certified or accredited by financial institutions, such as the International Organization for Standardization (ISO) or the Payment Card Industry Data Security Standard (PCI DSS). These certifications and accreditations indicate that the company has met high standards for security and quality.
Consider the technology stack: Ensure that the financial software development company has experience with the technology stack you require for your software solution. This includes programming languages, databases, and any specific tools and platforms you need.
Evaluate their customer service: A good financial software development company should have a strong customer support team that is available to answer your questions and provide assistance when you need it. Check if they offer 24/7 support and if they have a proven track record of delivering fast and effective customer support.
Get a clear understanding of their pricing: Make sure you have a clear understanding of the pricing structure and what is included in the cost. Some companies may offer a fixed price for the entire project, while others may charge an hourly rate. Make sure you are comfortable with the pricing structure before committing to the project.
Some of the financial software development companies you should know:
1.Intuit - This company is well-known for its popular accounting software, QuickBooks, which helps small businesses manage their finances, invoicing, payroll, and taxes.
2.Fiserv - Fiserv is a leading provider of financial technology solutions, offering a range of products and services for the banking and financial services industry.
3.SAP - SAP is a multinational software corporation that provides enterprise resource planning (ERP) software to manage financial operations. Its products help organisations manage their finances, accounting, and purchasing operations.
4.Finastra - Finastra is a global provider of financial services technology, offering a range of solutions for the banking, mortgage, and capital markets industries.
5.Yodlee - Yodlee is a financial data platform that provides its customers with a secure and streamlined way to access and manage their financial data from multiple sources.
6.BlackRock - BlackRock is a global investment management firm that offers a range of technology-driven financial products and services, including the popular Aladdin investment management platform.
7.Mphasis - Mphasis is an IT services company that specializes in providing financial services technology solutions, including software for digital banking, insurance, and capital markets.
8.Temenos - Temenos is a banking software provider that offers a range of solutions for retail and corporate banking, wealth management, and capital markets.
How Does Kodehash Best Fit To Develop Your Fintech Solution?
When you team with Kodehash Technologies you will find the best team of skilled and experienced financial software developers. When you choose our financial software development services, you can be confident that you'll be dealing with a staff that is dependable, committed, and trustworthy.
By Combining the power of finance and technology, we developed a robust fintech solution to meet merchants and customers' financial needs.
With numerous awards under our belt, we take satisfaction in being one of the fastest-growing software development firms. No matter what your Fintech business model is, Kodehash can be your co-developer of a successful fintech solution. Our team is excited to help you turn your fintech business idea into a reality since we have a thorough understanding of trends, developments, and new business models and most importantly best finance software developers. Get in touch with Kodehash.